The obverse of the coin
in the Central part of the disc - the coat of arms of the Soviet Union with fifteen turns of the tape, beneath the denomination in two lines - "ОДИН РУБЛЬ" on the circumference there is an inscription (left to right): "ПЯТЬДЕСЯТ ЛЕТ СОВЕТСКОЙ ВЛАСТИ"
The reverse of the coin
offset to the right is placed a relief image of the monument to Lenin with outstretched hand, in the background depicts a stylized hammer and sickle. To the left of the monument - a large star, and below it the inscription "СССР"
The obverse and reverse of the coin features the speaker on the circumference of the piping.
Artist: I. S. Krylov.
Sculptors: N. N. Filippov, V. A. Zasukhin.
Date of issue: October 1, 1967
Circulation: 211,25 thousand (implemented in the sets of coins in this series with a badge LMD), along with coins of
usual quality
- 52.5 million are very rare variants in
proof quality
, most likely released to the Olympics in 1980, the number of copies unknown. There is a
remake in 1988
by LMD, with a circulation of 55 thousand (from the date proof is on the edge - "1988").
Monuments to Lenin on the type depicted on the coin can be seen in many cities of Russia and the countries of the former Soviet Union. Lenin is symbolic pointing to a bright future. On some monuments leader of the proletariat he is depicted giving a speech, and sometimes the hand is lowered. The other hand may keep the cap (in rare cases Lenin is depicted with a cap on his head).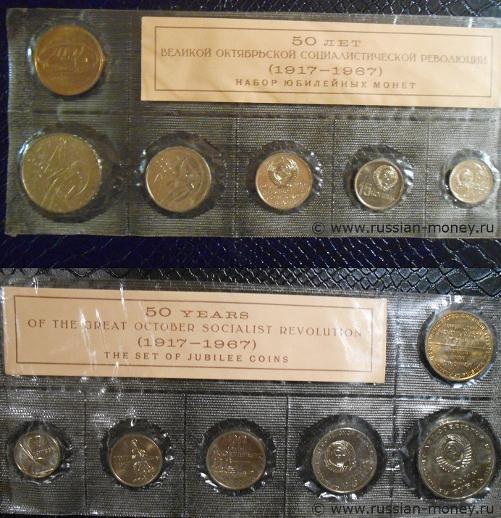 A set of coins "50 лет ВОСР"improved quality
"Жетон ЛМД"src="https://www.russian-money.ru/UsersImages/Articles/43/User/Zheton_LMD.JPG" />
Badge Leningrad mint