The obverse of the coin
in the left part of the field the coat of arms of the Soviet Union with fifteen turns of the tape, from which diverge in side the symbolic rays. On the right side of the image is framed by the protruding line to the right depicts a stylized flying rocket trailing behind it a trail of burning fuel in the form of an arcuate line. On top right side of the figure close-up shows the date "1917" and "1967", located one under another.
The reverse of the coin
in the foreground depicts a stylized monument to the conquerors of space (found in Moscow at the metro station "ВДНХ" in the background - image of the shining sun. At the top right on top of the figure indicated the denomination: a large number "10" underneath the word "КОПЕЕК"
The obverse and reverse of the coin features the speaker on the circumference of the piping.
Artist: Y. A. Lukyanov.
The Sculptor: I. S. Komshilov.
Date of issue: October 1, 1967
Total circulation: 50 million pieces, including 211,25 thousand quality uncirculated (implemented in the sets of coins in this series).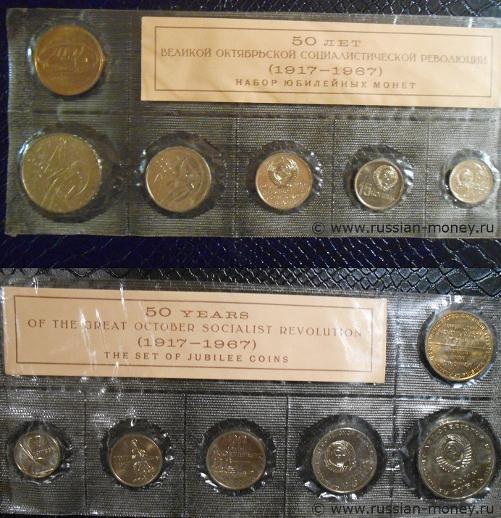 A set of coins "50 лет ВОСР"improved quality (the author of the photo - Greenveresk)
"Жетон ЛМД"src="/Images/BeforeImage.GIF" data-src="https://www.russian-money.ru/UsersImages/Articles/43/User/Zheton_LMD.JPG" />
Badge Leningrad mint (author photos Greenveresk)
The idea of the monument originated in 1958, but to implement the plan succeeded only in 1964. The height is 107 meters, the composition consists of a stylized rocket, standing on a pedestal depicting the plume of unburned fuel. Under the base is the cosmonautics Museum, which after restoration in 2009 became the largest Russian museums of this subject. On the facades of the building are bas-reliefs symbolizing the cosmic era.