The obverse of the coin
at the top of the disk is offset to the right - the emblem of the Soviet Union with fifteen turns of the tape, underneath specified value: large number "15" on the right from which the word "КОПЕЕК"
The reverse of the coin
on the right is a relief image of the sculpture "worker and collective farm girl" (by Vera Mukhina), on the left - the date "1917" and "1967", located one under another.
The obverse and reverse of the coin features the speaker on the circumference of the piping.
Artist: P. D. Volkow.
The sculptors: V. A. Zasukhin and A. V. Kozlov.
Date of issue: October 1, 1967
Total circulation: 50 million pieces, including 211,25 thousand quality uncirculated (implemented in the sets of coins in this series).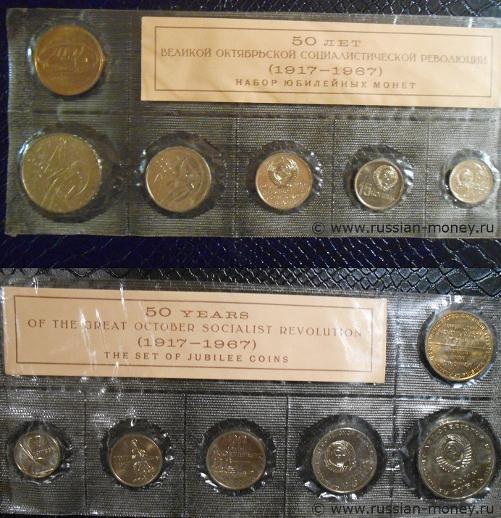 A set of coins "50 лет ВОСР"improved quality (the author of the photo - Greenveresk)
"Жетон ЛМД"src="/Images/BeforeImage.GIF" data-src="https://www.russian-money.ru/UsersImages/Articles/43/User/Zheton_LMD.JPG" />
Badge Leningrad mint (author photos Greenveresk)
The sculpture "worker and collective farm girl" was created from stainless steel in 1937 for the world exhibition in Paris. Is a symbol of socialism, clearly reflects his basic ideas, height - 25 meters. Original layout made by the sculptor Vera Mukhina according to the architect Boris Iofan. After 2 years, the sculpture was moved to Moscow, where she stood until 2003. In 2009, after the restoration, the sculpture was installed at the metro station "ВДНХ"