The obverse of the coin
in the upper part of the disc - the coat of arms of the Soviet Union with fifteen turns of the tape, underneath the horizontal inscription in three lines: "ПЯТЬДЕСЯТ ЛЕТ СОВЕТСКОЙ ВЛАСТИ" Left and right of the coat of arms date: "1917", "1967".
The reverse of the coin
upstairs, nominal value: number "20", underneath the word "КОПЕЕК" Below is a depiction of the cruiser "Aurora" on the Neva, from the main gun of which the shot is made, marked the beginning of the February revolution.
The obverse and reverse of the coin features the speaker on the circumference of the piping.
Artist: V. K. Nikitin.
The sculptors: A.V. Kozlov and I. S. Komshilov.
Date of issue: October 1, 1967
Total circulation: 50 million pieces, including 211,25 thousand quality uncirculated (implemented in the sets of coins in this series).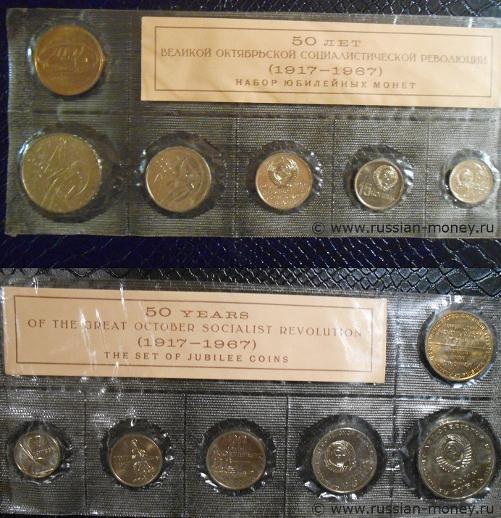 A set of coins "50 лет ВОСР"improved quality (the author of the photo - Greenveresk)
"Жетон ЛМД"src="/Images/BeforeImage.GIF" data-src="https://www.russian-money.ru/UsersImages/Articles/43/User/Zheton_LMD.JPG" />
Badge Leningrad mint (author photos Greenveresk)
The cruiser "Aurora" - the symbol of the revolutionary movement. Built in 1900, the name was in honor of the famous sailing ship during the Crimean war. He participated in many combat operations, and in February 1917 was seized by the Bolsheviks. From the main gun produced a blank shot, which was the beginning of the storming of the Winter Palace. Later participated in the battles of world war II, and since 1948 is installed on eternal Parking in Leningrad (St. Petersburg). In the fall of 2014 was sent for overhaul, after which again to the possibility of independent movement.