The obverse of the coin
in the Central part of the disc - the coat of arms of the Soviet Union with fifteen turns of the tape, beneath the denomination in two lines - "ПЯТЬДЕСЯТ КОПЕЕК" on the circumference there is an inscription (left to right): "ПЯТЬДЕСЯТ ЛЕТ СОВЕТСКОЙ ВЛАСТИ"
The reverse of the coin
offset to the right is placed a relief image of the monument to Lenin with outstretched hand, in the background depicts a stylized hammer and sickle. To the left of the monument - a large star, and below it the inscription "СССР"
The obverse and reverse of the coin features the speaker on the circumference of the piping.
Artist: I. S. Krylov.
Sculptors: N. N. Filippov and I. S. Komshilov.
Date of issue: October 1, 1967
Total circulation: 50 million pieces, including 211,25 thousand quality uncirculated (implemented in the sets of coins in this series).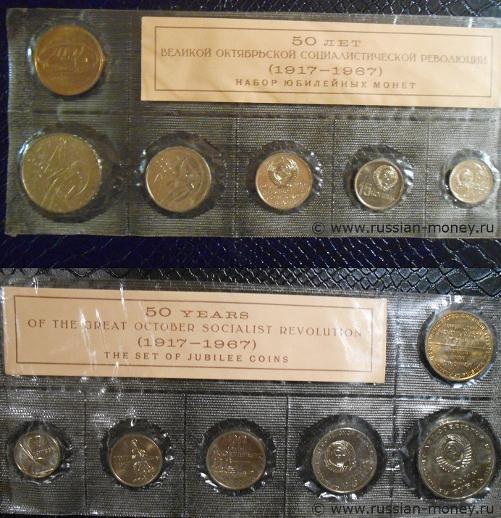 A set of coins "50 лет ВОСР"improved quality (the author of the photo - Greenveresk)
"Жетон ЛМД"src="/Images/BeforeImage.GIF" data-src="https://www.russian-money.ru/UsersImages/Articles/43/User/Zheton_LMD.JPG" />
Badge Leningrad mint (author photos Greenveresk)
Monuments to Lenin on the type depicted on the coin can be seen in many cities of Russia and the countries of the former Soviet Union. Lenin is symbolic pointing to a bright future. On some monuments leader of the proletariat he is depicted giving a speech, and sometimes the hand is lowered. The other hand may keep the cap (in rare cases Lenin is depicted with a cap on his head).
Release for treatment, has poor attention to detail. On coins without a trace of wear is allowed a barely noticeable scratches and nicks that have emerged from storage in bags.
Circulation - 49 788 750 pieces.
Degree of rarity: 1.
Added by: Admin, author photo: ALPI
The issue of improved quality for collectors, you'll be more clear terrain and the complete absence of defects relating to when storing coins, and a glossy (but not mirror) surface and pattern. Implemented in a set of coins dedicated to the 50th anniversary of Soviet power. Set in a plastic bag sealed, the sealing included denominations of 10, 15, 20, 50 kopecks and 1 ruble, as well as a badge LMD mint.
Coins coinage with traces of wear, are equal to the normal collectors edition.
Circulation - 211 of 250 pieces.
Degree of rarity: 2.
Added by: Admin, author photo: Greenveresk